Play Therapy Parenting Podcast
The path to calm, confident, and in-control parenting starts now
Listen to the Latest Episode
If you have a young child between, say, 5 and 11, you've probably heard something shocking come out of their mouth like "I hate my life", or "I wish I were never born". In this episode of the podcast, I talk about how most parents respond in one of three ways. Then I...
read more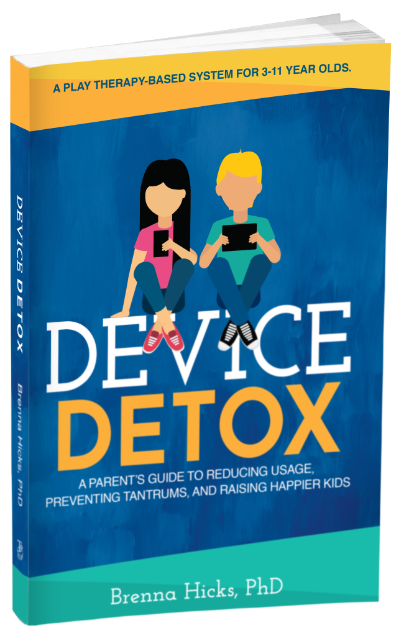 Get Brenna's Latest Book
Device Detox: A Parent's Guide To Reducing Usage, Preventing Tantrums, And Raising Happier Kids.
"Dr. Brenna Hicks does an excellent job of sketching the problem, but the book shines brightest when Dr. Hicks offers a suite of practical, evidence-based strategies for coping with screen overuse in children. A valuable book that deserves to be read by parents everywhere."
ADAM ALTER
New York Times bestselling author of IRRESISTIBLE and DRUNK TANK PINK
Foundational Play Therapy Parenting Concepts
Below is a compilation of my best podcasts covering the most fundamental play therapy skills.
read more
One of the services I offer at The Kid Counselor Center is a 10-week course called Child-Parent Relationship Therapy (CPRT).  Each week of the course I cover a "rule of thumb" that is a little nugget of wisdom that gives you something to think about as you parent....
read more