Play Therapy Fundamentals
Below is a compilation of my best podcasts covering the most fundamental play therapy skills.
References:
Cochran, N., Nordling, W., & Cochran, J. (2010). Child-Centered Play Therapy (1st ed.). Wiley.
VanFleet, R., Sywulak, A. E., & Sniscak, C. C. (2010). Child-centered play therapy. Guilford Press.
Landreth, G. L. (2002). Play therapy: The art of the relationship (2nd ed.). Brunner-Routledge.
Bratton, S. C., Landreth, G. L., Kellam, T., & Blackard, S. R. (2006). Child parent relationship therapy (CPRT) treatment manual: A 10-session filial therapy model for training parents. Routledge/Taylor & Francis Group.
Benedict, Helen. Themes in Play Therapy. Used with permission to Heartland Play Therapy Institute.
Get Brenna's Latest Book
Device Detox: A Parent's Guide To Reducing Usage, Preventing Tantrums, And Raising Happier Kids.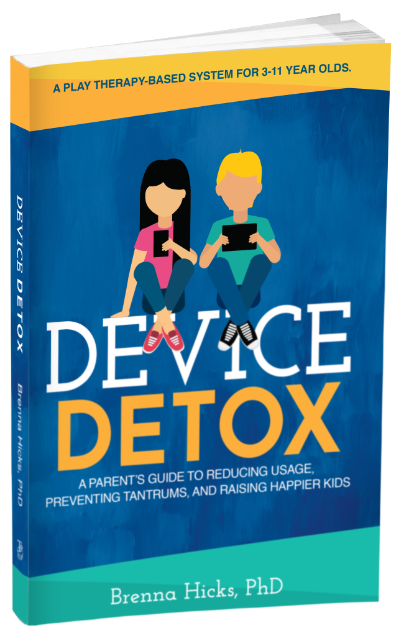 "Dr. Brenna Hicks does an excellent job of sketching the problem, but the book shines brightest when Dr. Hicks offers a suite of practical, evidence-based strategies for coping with screen overuse in children. A valuable book that deserves to be read by parents everywhere."
ADAM ALTER
New York Times bestselling author of IRRESISTIBLE and DRUNK TANK PINK